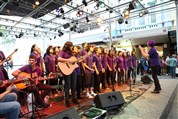 Vicki Bos

Expires
Thursday, 30 October 2014
ICTE-UQ Chorus
Hi there,

Our group has decided to get together and Sing for Spring for a great cause!
On this page, please make a secure donation to support the continuation of the With One Voice program and sponsor places for people in need. I would also really appreciate it if you could share my page or comment below so more people know about it.

Please donate, share and vote to help our Sing for Spring entry get onto the big screen at Federation Square (4 October) and the With One BIG Voice Concert (Melbourne Town Hall, 12 October)!

Click 'Donate Now' to make a secure online donation.

Thanks so much for your support!

Creativity Australia
Creativity Australia's network of With One Voice choirs welcome all people seeking harmony, health and happiness: people aged 9 to 90, from all faiths, cultures and walks of life. Through the neuroscience of singing and the power of community, With One Voice choirs help diverse people connect to whatever they need in life, including friends, mentors, wellbeing, relaxation, self-esteem, skills, networks and employment.

With One Voice choirs are led by professional conductors and meet weekly, followed by supper. There are no auditions and no singing experience is needed. The choirs share their songs and stories at community, corporate, multicultural and interfaith events throughout the year. Through the Wish List, participants grant one another wishes big and small, like work experience, free music lessons and language tuition. 

The With One Voice choir program, recently named one of Australia's top social innovations for the second year running, complements the programs of other charities and agencies working to support people in need. The program helps participants connect to people and opportunities they might never otherwise have encountered. 

With your support, we can grow the With One Voice program to empower individuals and build supportive communities nationwide and beyond. Let's share the joy of song and change the world, one voice at a time!

Choir locations | Wish List | Testimonials | Video gallery | Facebook | Twitter
Please make sure you are LOGGED IN. You can only join a Team Leader page if you are logged in and have an Individual page created. If you do, it will be displayed here once you've logged in. If you don't, please return to the 'home page' and follow instructions on how to create your Individual page.
FUNDOMETER
Target
$250
Raised So Far
$346
Target
$250
Raised So Far
$346
Team Members
My Total: $346
Team Total: $346.46
Biggest Supporters:
Anonymous: $250.00
Anonymous: $27.56